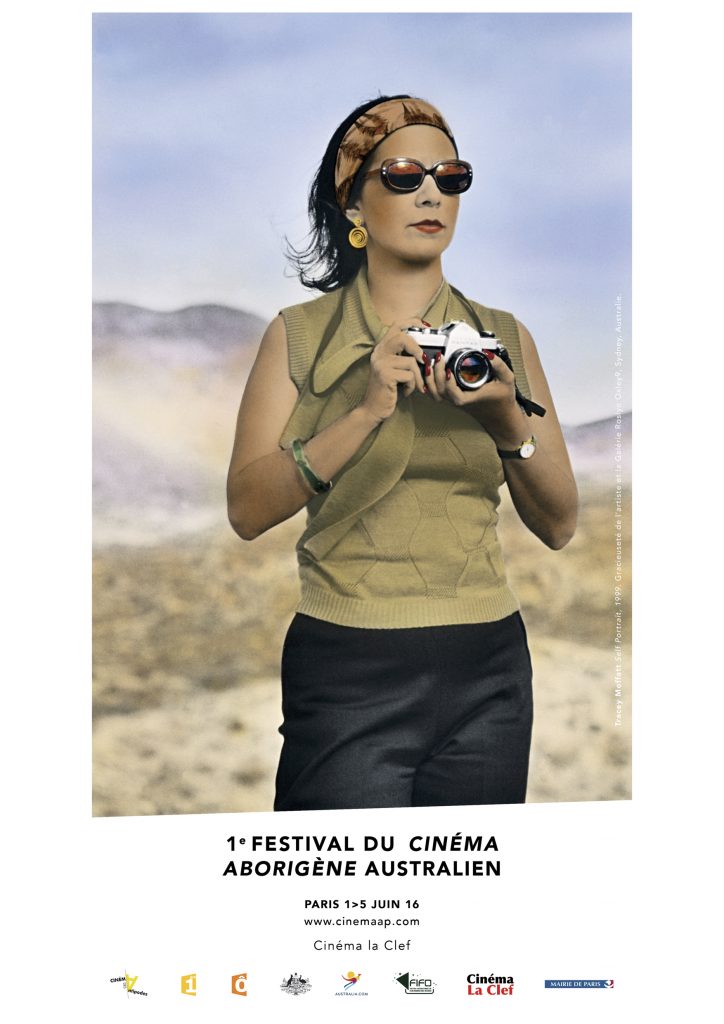 The very first edition of the Festival of Indigenous Australian Cinema in Paris takes place on 1 – 5 June 2016, showcasing an impressive selection of documentary, fiction and short films, with 14 sessions at Cinema La Clef (Paris 5th), along with special events and discussion panels.
Festival Director, Greta Morton-Elangué, an Indigenous Australian film-maker and historian, says: "the Festival will provide the French audience with another very different perspective on Australia. It will allow them to discover the vitality of the Aboriginal Australian Cinema "nouvelle vague", and better appreciate how Aboriginal Australian peoples resist and fight for the survival of their cultures and their languages."
The Festival's detailed catalogue is available here
Programme
Wednesday 1 June: FILM + COCKTAIL
8 pm : TOOMELAH
by Ivan Sen – Drama/1h46/2011
Official Selection 'Un Certain Regard', Cannes 2011
With the presence of Ivan Sen, Australian Ambassador to France Mr Stephen Brady,  Outre-Mer 1ere and France O Executive Director Walles Cotra, and Australian Delegation to the OECD Counsellor Leslie O'Donoghue.
Thursday 2 June
7 pm : SAMSON AND DELILAH
by Warwick Thornton – Drama/1h41/2009
Award winner 'Camera d'or', Cannes 2009
9.15 pm : MYSTERY ROAD
by Ivan Sen – Thriller/2h01/2013
Friday 3 June:
7 pm : BLACK PANTHER WOMAN
by Rachel Perkins – Documentary/1h12/2014
8.45 pm : HERE I AM
by Beck Cole -Drama/1h30/2011
Award Best movie – imagineNATIVE Festival, Toronto
Saturday 4 June:
1 pm : THE TALL MAN
by Tony Krawitz – Documentary/1h18/2011
Followed by a discussion with Barbara Glowczewski, author of "Guerriers pour la paix : La condition politique des Aborigènes vue de Palm Island", 2008.
3 pm : SATELLITE BOY
by Catriona McKenzie – Drama/1h30/2012
Official Selection, Berlin Film Festival 2013 and Toronto International Film Festival
5 pm : ANOTHER COUNTRY
by Molly Reynolds – Documentary/1h15/2015
Followed by a discussion with anthropologist Jessica De Largy Healy, CREDO and Musée du Quai Branly.
7.30 pm : BASTARDY
by Amiel Courtin-Wilson – Documentary/1h23/ 2008
Special prize, FIFO 2010 ( International Festival of Oceanian Films)
9.30 pm: CLEVERMAN
by Wayne Blair – Series/Season  1: Episode 1 & 2/2 x 52mn/2016
Sunday 5 June:
2 pm : NIGHT CRIES & BEDEVIL
NIGHT CRIES by Tracey Moffatt – Short film/ 17mn/1989
Official Selection, Cannes, 1989
BEDEVIL by Tracey Moffatt – Horror film/ 1h30/1993
Official Selection 'Un Certain Regard, Cannes, 1993
4.45 pm: BRAN NUE DAE 
by Rachel Perkins – Musical/1h28/2009
Award 'best director' Film, Critics Circle of Australia Awards
6.45 pm : MURUNDAK SONG OF FREEDOM
by Natasha Gadd and Rhys Graham – Documentary/1h22/2011
8.30 pm: SAPHIRES
by Wayne Blair – Musical/1h43/2012
Official selection, Cannes 2012