IDAIA, New Angles and A.C.M. have the great pleasure to invite you to attend the opening ceremony celebrating exhibition Ngaldjorlhbo – Mother of Everything – Mère de Toute Création held at Espace New Angles in Paris:
Wednesday 6 June at 18:00 – 21:00
in the presence of three guests of honour:
Nadine Bilong, Céline Parsoud and Bobbie Ruben
Rsvp at info@idaia.fr
Click here to read their opening ceremony speeches
Click here to see the opening ceremony photos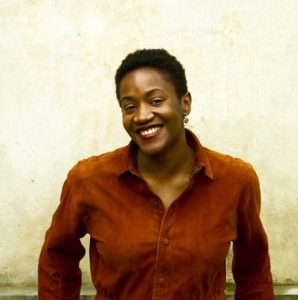 NADINE BILONG
Curator and arts professional based in Paris, Nadine sees art as both material and immaterial.
In 2016, she founded the platform BREATH'ARTS PERFORMA which focuses on the medium of performance and installation on different humanities topics. She employs the movement intrinsic to performance art to express a multiplicity of emotions and systems of being. Born in Cameroon where she grew up during her childhood, she connects her curatorial projects with Africa and African diaspora.
The same year, she was also invited as guest curator by the chief curator Simon Njami at the XII edition of Dak'art Biennale where she curated the performance program "Manifeste de la Cité dans le Jour Bleu". In january 2017, she was invited by the artist Kader Attia and the curator Christine Tohmé as a contributor to the project "Long Live the Independence of Water" for the XIII Sharjah Biennial. Then, she launched at La Colonie in Paris in may 2017 the concept « Discussion-Performative / Talk-Perform » merging talk and performance arts.
She curated talks, conversations, performances, exhibition in collaboration with arts and cultural institutions like Dapper Musuem, 1 :54 Art Fair invited by Koyo Kouoh, Sotheby's – AKAA Art Fair, Quai Branly Musuem, La Colonie, Dak'art Biennale with the Senegalese Ministry of Culture; Cultural Entrepreneurship Forum with the French Ministry of Culture, Afroxploitation ; But also with many artists from different artistic disciplines like Pascale Marthine Tayou, Beya Gille Gacha, Barthelemy Toguo, Jean-François Boclé, Soraya Milla, Marc-Alexandre Oho Bambe, Napoleon Vox Maddox, Myriam Mihindou, Chantal Loyal, Bili Bidjoka etc. In April 2018, she curated the exhibition « Metaphor of the Big Bang » at the 59 Rivoli Gallery and CK Gallery. She also contributed to Arts Magazines & Catalogues like Art Africa, Something We Africans Got, Africa is music, Africafuturistic.
Nadine studied international business administration, then is to complete a specialized Master's degree in International Management of Medias in the business school ESCP EUROPE, Paris. She also completed a major program in Arts and Cultural Management at Bocconi University, Milan. She is attending Art History courses at the University of Charles de Gaulle, Lille. She is the founder of SANCOFA, a non-profit organization consisting to assist and encourage artists and cultural initiatives.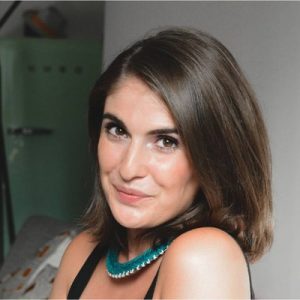 CELINE PARSOUD
Céline PARSOUD is a young entrepreneur and an expert in media, innovation and digital. With over 5 years of experience at the leading French media group, she decides in 2017 to use her skills to serve her convictions. She creates Gender Busters, a creativity agency dedicated to Gender Equality. She accompanies companies in their last kilometer towards Gender Diversity.
She has been engaged with WoMen'Up since 2014 and became her president in 2017. Since then, she focuses on deconstructing preconceptions both on the young generations and on Gender Equality. Devoted to unsettling stereotypes, she aims at becoming an ambassador for a new-generation and disinhibited feminism, in the private sector as well as in the civil society. Her mission takes her to many events to which she participate as a speaker: TedX, Forum JUMP, La Nuit du Digital, "Elles cassent la baraque", Ada Week, Le Grand Forum Marie Claire and ESSEC Women's Day.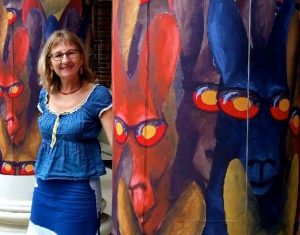 BOBBIE RUBEN
Bobbie Ruben is a printmaker, textile designer and educator who consults, teaches and collaborates with Aboriginal and Torres Strait Islander artists and students in the development of textile designs, and limited edition prints on paper.
She has a strong interest in the development and success of remote textile operations in the Northern Territory and Far North Queensland.
In addition she conducts her own textile design practice, Speargrass Textiles.
She is currently undertaking research in collaborative textile work through James Cook University.
Bobbie has worked with Babbarra Women's Centre for the past 15 years assisting artists in the development and production of textiles.