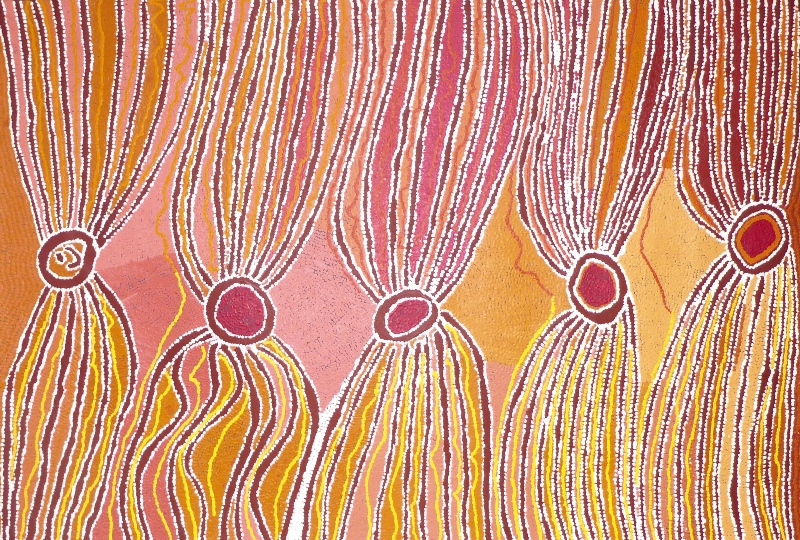 Liddy Napanangka Walker – Dogwood Tree Dreaming, 2009
183 x 122 cm
Acrylic on canvas
Ref. 4071-09
Not available for acquisition
PROVENANCE:
Warlukurlangu Artists (official art centre), Yuendumu, NT.
Exhibition WaterMark – The Signature of Life, IDAIA – International Development for Australian Indigenous Art, with the support of the Australian Consulate-General in Hong Kong, The Space, Hong Kong, Sep. 2012.
Exhibition Gestuelles – the art of transmission by Aboriginal desert women, IDAIA – International Development for Australian Indigenous Art, in partnership with the Embassy of France in Australia, touring the Alliances Françaises in Australia, 2012-2013.
Exhibition at the French Consul-General's Residency in Sydney, 7 June – 30 Sep. 2013.
Acquired by a private collector
DESCRIPTION:
The main motif of this painting depicts the 'wakirlpirri' (dogwood [Acacia coriacea]) tree. 'Wakirlpirri' is a very useful tree that grows on the sides of creek beds and near 'mulga' trees. The seeds of this tree can be eaten raw or cooked on the fire. A deliciously sweet drink called 'yinjirrpi' is made from the seeds when they have been dried. The wood can be used to make weapons such as 'karli' (boomerangs) and dancing boards for ceremonies.It is also good wood for burning on the fire because rain cannot extinguish burning Wakirlpirri wood. In contemporary Warlpiri paintings traditional iconography is used to represent the Jukurrpa, particular sites and other elements. This Jukurrpa travels from Jarrarda-Jarrayi through to Puturlu (Mount Theo) west of Yuendumu. This Jukurrpa belongs to Japanangka/Japangardi men and to Napanangka/Napangardi women.