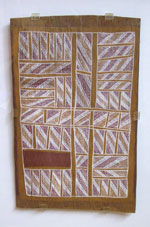 In this article, Will Owen wonders with a critical eye about the reception of Aboriginal art by « outsiders » giving some keys to read this complex artistic movement through two reference books: How Aborigines Invented the Idea of Contemporary Art: writings on Aboriginal contemporary art, by Ian McLean; and Ancestral Connections: art and an Aboriginal system of knowledge by Howard Morphy.
« Several weeks ago I wrote about a panel discussion at the Toledo Museum of Art in which the topic of restricted knowledge in Aboriginal painting—what Stephen Gilchrist referred to as "registers of knowledge"—created a degree of consternation among some members of the audience.  A couple of people were irritated or offended at the notion that there were levels of meaning in Aboriginal art that were inaccessible to "outsiders."
The discussion has been pricking at me ever since.  In part this is because the intent of the panel and of the exhibition was to increase the appreciation of Aboriginal art and culture for the members of the audience, to convey the sense of its value, and to impart an understanding of its values.  It may be too strong a statement to say that the exchanges around this topic of restricted knowledge had the opposite effect of creating hostility to those values, but nonetheless I felt that we on the panel had somehow failed our mission. And so I've been wondering how I might have handled the exchange differently, and what I might do to correct the misapprehensions.  My assertion that I, too, had once set myself the goal of penetrating that secrecy through study and sympathy seemed to miss the mark, as did my statement that coming to terms with the value system that restricted knowledge was in itself part of the process of coming to appreciate the art.  I have made my peace with being given only public, or outside, knowledge.  But I understood that for others, that peace might seem like a failure in itself.
I also mentioned in another recent post that I've been dipping into Ian McLean's How Aborigines Invented the Idea of Contemporary Art: writings on Aboriginal contemporary art (Institute of Modern Art/Power Publications, 2011).  This is a book that had been sitting on the shelf for a long time; I  put off starting it after a quick browse revealed that it consists mostly of short excerpts from writings about Aboriginal art from many different publications over a span of decades.  I am not by nature a lover of anthologies, and so I decided that this particular volume wasn't high on my reading list.  But recently I've been taking advantage of the odd moment here and there when I don't have the time to sit down to sustained reading to absorb the snippets McLean has gathered together, and I'm finding it a most rewarding experience, both for pointing me to articles and books I hadn't encountered before and for reminding me of what I've learned from those that I have already read.
Last week, in one of those brief encounters, I came upon a selection from Howard Morphy's Ancestral Connections: art and an Aboriginal system of knowledge (University of Chicago Press, 1991) that McLean had headlined "The mask of secrecy: inside and outside, knowledge and power."  It was doubly apposite in that it bore directly on the topic that has been biting at my conscience and because all three of us on the panel had so often referred to Morphy's work in our remarks that it became a source of amusement to us.  It seemed that no matter what point we were trying to make, a quotation from Morphy helped us make it better. The two and a half pages of Morphy's text McLean chose to include in his anthology bear directly on the problem of revealing "inside" or restricted knowledge, both in Yolngu and balanda (outsider) contexts.  I hope that a brief discussion of some of those points will help to add some nuance to the discussion of what is too often tossed off as the "secret/sacred" nature of Indigenous knowledge… » [Read more]