Solenne Ducos-Lamotte, IDAIA's Director is invited again by Bertrand Estrangin, European collector of Aboriginal art to take part in a special event.
This Aboriginal art event hosted by Bertrand Estrangin on 26 September 2012, offered a main lecture presented by Georges Petitjean, Curator at the Museum of Contemporary Aboriginal Art (Utrecht, The Netherlands) about Aboriginal art as an innovative contemporary art: the Dreamings, the transmission, and ceremonies.
This lecture was next completed with Bertrand Estrangin's insights and Solenne Ducos-Lamotte's speech. Read Bertrand Estrangin's account of the evening here.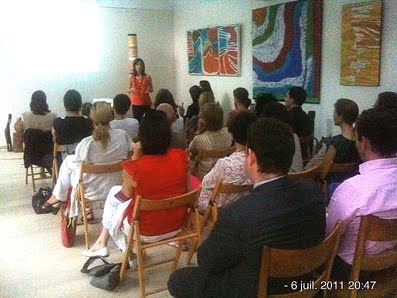 Solenne Ducos-Lamotte had presented a first lecture dedicated to Aboriginal hosted by Bertrand Estrangin on 6 July 2011. Read about Solenne Ducos-Lamotte's lecture here.