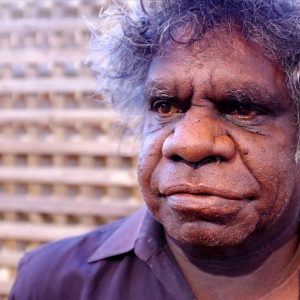 Mervyn was born at the Telegraph Station in Alice Springs in 1958. His mother Cynthia (Kamara) Obitja was a Western Arrarnta woman. His father was the late Mr Wenten Rubuntja Pengarte, a famous painter. His father was an important role model for Mervyn. He was a senior lawman and a respected member of his community. He fought for Aboriginal rights and protection of the land working alongside the Central Land Council and assisted in the Mabo agreement. He considered that the dot form of art is the 'law' and the watercolour form is the 'song'. He described the dot form of acrylics and watercolours as an interchangeable way of representing the country. (*)
Mervyn has followed in his father's footsteps painting in the watercolour style that his father taught him. When Mervyn was 13 years old, his family moved to Hermannsburg this is where he first saw watercolour paintings, as he watched his uncles Maurice, Oscar and Keith Namatjira painting like their father Albert. Arnulf Ebatarinja, another uncle, kindled Mervyn's painting talent when he gave him some watercolour paperboard and taught him to paint. Mervyn's family moved back to Alice Springs in 1975 and he began to paint with Basil Rantji who taught him how to mix colours.
Mervyn is part of the art centre Iltja Ntjarra Art Centre.
>> CLICK HERE TO VIEW A SELECTION OF ARTWORKS
Temps forts de sa carrière / Career highlights:
Collections et prix / Collections and awards
Queensland Art Gallery

│

Gallery of Modern Art, Brisbane

National Museum of Australia (NMA), Canberra

Baker IDI Heart & Diabetes Institute (Baker IDI)

Parliament House Art Collection

Museum and Art Gallery of the Northern Terriory

Ian Viner QC

Araluen Galleries, Alice Springs

2004 Central Advocate Award, Alice Springs

2006 Mornington Peninsular Works on Paper exhibition

2008 Finalist at the Telstra Awards (NATSIAA)
Projet spéciaux / Special projects
2017 Parrtjima, Festival of Light, Alice Springs (Honouring Space)

2016 Cicada Press print workshop, UNSW, Sydney

Parrtjima, Festival of Light, Alice Springs (Ground projection)

2014 Public Art, mural at the Alice Plaza, Alice Springs

2013 Speaker at "Haunted Landscapes Presences in the art of Albert Namatjira & Rex Battarbee", public symposium presented by The Writing & Society, The State Library, Sydney
Expositions, florilège / Selected exhibitions
2017 What if this photograph is by Albert Namatjira? TARNANTHI, Art Gallery of SA (AGSA), Adelaide
2016 Abducted!, Alcaston Gallery, Melbourne
2016 UNALIENABLE, Sullivan + Strumpf Gallery, Sydney
2016 Lingiari Awards Exhibition, Tangentyere Gallery, Alice Springs
2015 The Namatjira Collection, TARNANTHI, Art Gallery of SA (AGSA), Adelaide
2015 Kinship, In the footsteps of Namatjira, Moree
2014 Namatjira to Now, The Parliament House, Canberra
2014 The Men Artists of the Hermannsburg School of Art, Talapi Gallery, Alice Springs
Five Generations: The Strength of Namatjira's Legacy, Araluen Galleries

2013 Salon des Refusés, Darwin

Living Watercolours, Southbank Centre, Londres / London
Contemporary Aboriginal Art From Australia, Château de l'Étang, Paris

2012 Adelaide Festival Centre, Adelaide

2012 Frankston Arts Centre, Frankston
2012 Art Mob, Hobart & Launceston
2009 The Watercolourists of Central Australia, Indigenart, Melbourne
Beyond Batterby, Recent Watercolour by Central Australian Artists, Hobart

2008 25

th

Telstra National Aboriginal and Torres Strait Islander Award (NATSIAA), Museum and Art Gallery of Northern Territory, Darwin
(*) Beverley Castleman – Wenten Rubuntja with Jenny Green – The Town Grew Up Dancing, Jukurrpa Books 2002.