The oldest continuous artistic tradition
Australia's first people's fascinating culture dates back to at least 60,000 years ago,
Unique imagery illustrating dreamings which tell the stories and journeys of the mythical ancestors who created the universe – lands, fauna, flora, people and spirits,
Spiritual, political, social, utilitarian or didactic functions constantly overlapping,
Ancient and evolving traditions keeping the ancestral powers alive through the performing of ceremonies – involving dances, songs and ground and body painting – and the practice art activities.
A rich diversity of artistic traditions linked to Australia's varied natural environments 
Cave engravings and paintings, ground or sand painting, bark painting,
Wood and fibre sculpture, objects made from stone, wood, paint, woven fibres and feathers
Jewels made from bone, shell and seeds.
Recently developed art practices showing Aboriginal art's spectacular capacity to evolve
Acrylic and ochre painting on canvas, watercolour, printmaking,
City-based artists exploring their cultural heritage, as well as contemporary society themes, through a wide range of new media such as photography, video and installation art.
International acclaim
The Australian Indigenous Art Commission at the Musée du Quai Branly, Paris, France (2006)(photo below): out of all the representations of contemporary indigenous art, it is Aboriginal art that the new museum picked to be highlighted and singled out in an extraordinary public commission. The commissioned works, specifically created by 8 living prominent contemporary Aboriginal artists, are permanently integrated into the museum's architecture. Featured on the façade interior walls and ceilings of one the buildings, they are also visible from the street and constitute a 24/7showcase for contemporary Aboriginal art.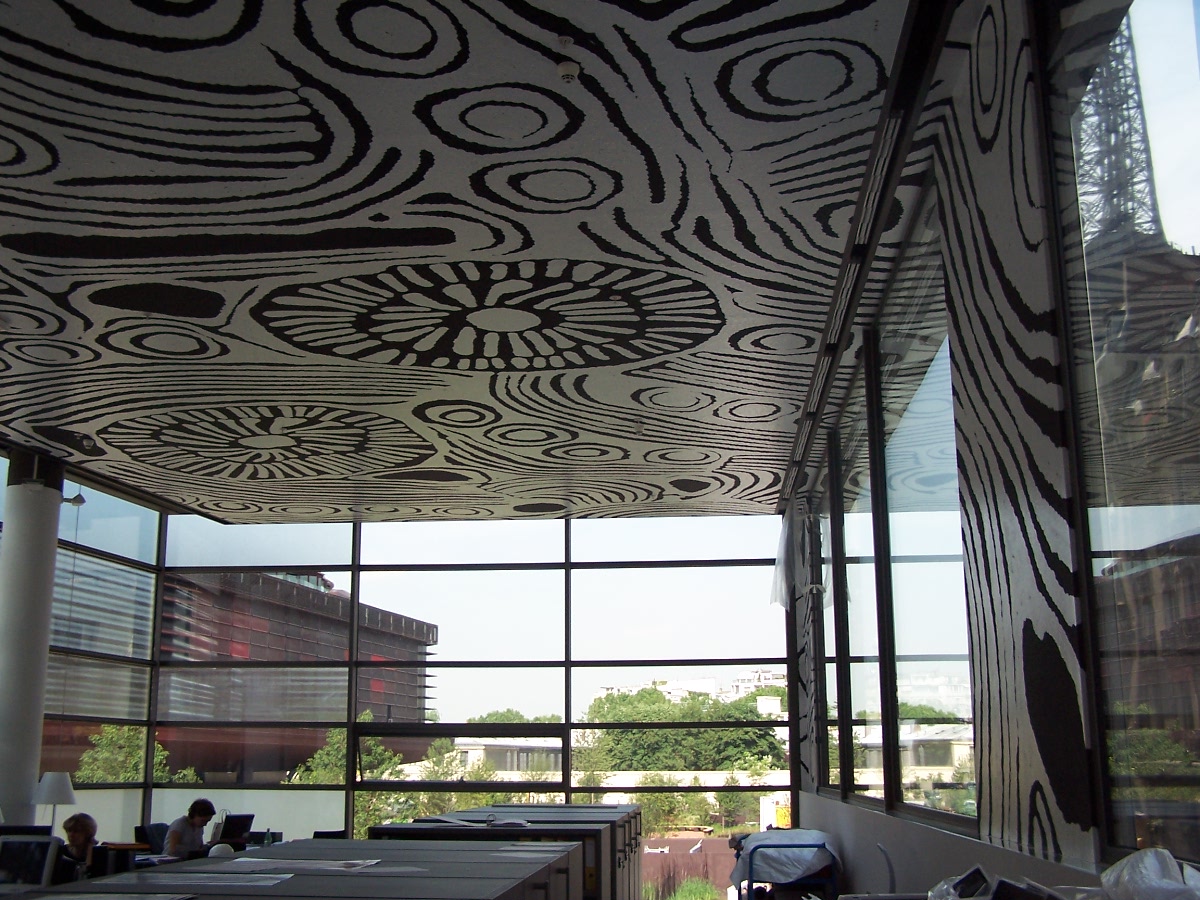 Presence in major public institutional collections across the world, from New York to Tokyo, including Paris and Beijing.
 See more photos in the gallery

A BLOSSOMING SECTOR
The development of the Aboriginal art sector took place over the last decades
Starting in the 1970s with the creation of the first Aboriginal art centres,
Spectacular acceleration over the last decade with now over 100 art centres and about 6,000 artists in 80 remote communities.
Art centres – the backbone of the Aboriginal art sector
Aboriginal-owned artist cooperatives facilitating the production and distribution of art works, generally located within Indigenous communities, open to all community members, managed by a board of local Aboriginal people, and operating as non-profit entities:
Recording the art works' creation details, guaranteeing their authenticity and a permanently traceable provenance,
Distributing benefits to the artists (between 50% and 70% of the sale price of works),
Providing a pricing reference framework,
Ensuring cultural maintenance, renewal, learning and social cohesion – crucial factors for the aesthetic quality and proper telling of the artists' dreaming.
A Booming Market
Annual growth of 40-50% sustained over the last decade,
6 auction houses in Australia,
Auctions' turnover evolution from AU$1 million in 1995 to AU$25 million in 2007,
Auction records from AU$778,750 in 2001 (Rover Thomas) to AU$2,400,000 in 2007 (Clifford Possum Tjapaltjarri),
At least 70% of auction value goes to Europe or the USA,
Aboriginal art auction previews in New York, Los Angeles and London.
Aboriginal art, an attractive investment alternative
Its international dimension makes it a more stable market, where risks are spread across different economies and currencies,
Australian art price indexes indicate an average annual growth of 6-10%,
Between 1997 and 2001, Sotheby's index for Australian art increased by 90%,
Sourcing the best artworks from major or rising artists, corresponding to the highest aesthetic standards, the value of which will increase the most,
Developing a coherent collection whose value will be superior to the sum of the artworks – around themes, styles, geographical areas or communities.
AN INTRICATE UNIVERSE
An abundant and heterogeneous offer
Highly heterogeneous prices and quality levels,
Difficulty in accessing high-quality works,
Significant risks of acquiring artworks with dubious integrity and production conditions,
Difficulty in accessing information and reliable provenance evidence.
Pitfalls generated by "carpetbaggers" (individuals, agents or dealers directly approaching and taking advantage of artists)
By-passing art centres and cherry-picking artists,
Selling misleading or fraudulent works, fakes, mass-produced or low-quality works,
Providing unfair or inappropriate payment to artists,
Finding their way into galleries or onto the Internet for inflated prices.