The development of the Aboriginal art sector took place over the last decades, with the creation of the first Aboriginal art centres in the 1970s. There are now over 100 art centres, representing 6,000 artists, in 80 remote communities.
The Aboriginal art centres are Aboriginal-owned artist cooperatives. They facilitate the production and distribution of artworks, while ensuring the fair remuneration of artists and managing their careers.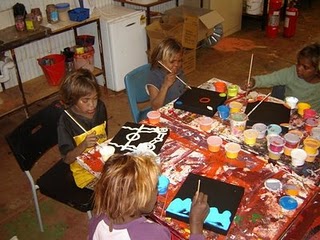 The art centres are non-for-profit entities that play a key role in the development and sustainability of the sector:
Recording the artworks' creation details, guaranteeing their authenticity and a permanently traceable provenance,
Providing a pricing reference framework,
Redistributing benefits to artists (between 50% and 70% of the sale price of works)
Ensuring cultural maintenance, renewal, learning and social cohesion – crucial factors for the aesthetic quality and proper telling of the artists' dreamings.
The Aboriginal art centres are unanimously recognised as the only original provenance allowing for absolute certainty as far as the authenticity, the ethical nature and the quality of an artwork for sale, are concerned.
There are two kinds of Aboriginal artists in Australia: the urban-based artists, who are totally integrated into the western way of life, and the artists who still live in communities. In the case of artists who are part of an art centre (or belong to an equivalent ethical organization, acting as an art centre), it is recommended to choose an artwork coming from this very art centre for the reasons explained above, and also to guarantee the right appraisal of the artwork's value. Indeed, reputed and reputable auction houses will not accept other provenance evidence or origins than those strictly provided by art centres only.
With now over 100 art centres in Australia, there only remains a very small number of Aboriginal communities who do not possess such an organisational structure to protect them.
Aboriginal peak advocacy and support agencies provide regional assistance for Aboriginal art centres located in their operating geographical area. They are government-funded, not-for-profit Aboriginal corporations.
The services they offer range from consultation to training. They act as lobby and advocacy groups to protect the rights of Aboriginal artists and promote an ethical Aboriginal art sector. They also play an important role in establishing guidelines, training and induction programs in order to facilitate good art centre functioning and governance, and are an essential networking hub in often very remote regions. Learn more about these peak bodies.

Artworks © The Artists – Photos © IDAIA unless marked otherwise