IDAIA's main office is in Sydney, Australia. We have been working with an international team of members, contributors and partner organisations in several countries.
IDAIA is currently under restructuring and strategic planning to better serve the ethical and curatorial sector of Australian Indigenous art. Any constructive feedback and suggestions are welcome notably as part of the current consultation phase, as are project proposals at any time. More articulated options of involvement will be made possible in the near future.
Indigenous involvement is encouraged at all stages as part of IDAIA's objectives to empower Indigenous Australians to interpret and contribute to the promotion and celebration of their art and culture.
Thank you to all the many volunteers, interns, contributors, benefactors, corporate sponsors, institutional partners, and our international audiences, for your ongoing support in developing initiatives reinforcing the sustainability and vibrancy of Australian Indigenous contemporary art on the international art scene.
SOLENNE DUCOS-LAMOTTE
IDAIA'S FOUNDER AND DIRECTOR
Solenne Ducos-Lamotte is a French specialist of the Indigenous Australian contemporary art sector. Her passion for this art led her to emigrate to Sydney where she notably developed and managed the Aboriginal Art Department of Michael Reid – Caruana & Reid Fine Art Gallery.
She has worked closely with Wally Caruana, former Senior Curator of Australian Indigenous Art at the National Gallery of Australia in Canberra for over twenty years.
Responsible for the exhibition and education programmes, Solenne Ducos-Lamotte has developed strong relationships with the Aboriginal art centres and stakeholders, and acquired a thorough understanding of the many aspects at stake in Aboriginal art both as a unique living artistic tradition and as a market.
Highlights of her career at Michael Reid – Caruana & Reid Fine Art include the annual landmark exhibitions 'Important Aboriginal Art'; solo exhibitions of now prominent urban-based artists such as Julie Dowling and Danie Mellor; off-the-beaten-track exhibitions presenting fibre art and bush toys; and intense client education tours exploring Aboriginal community art centres and galleries throughout traditional territories – from Northern Territory's Central Desert, Arnhem Land and Tiwi Islands, to Western Australia's Western Desert and Kimberley, with stop-offs in Alice Springs, Broome, Darwin and Nhulunbuy.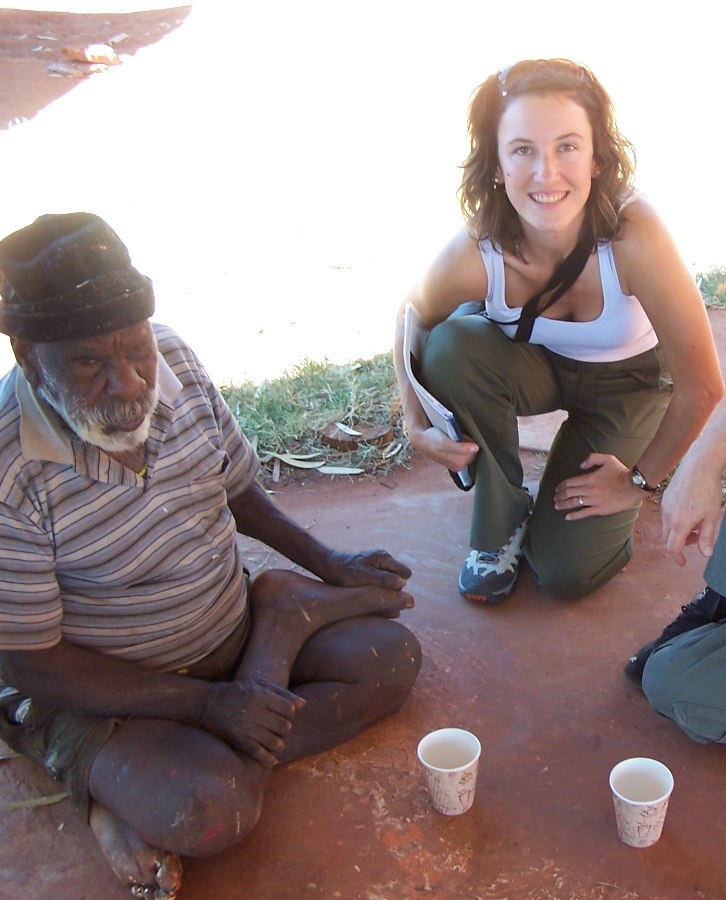 Solenne Ducos-Lamotte has been working significantly with French-speaking communities and institutions. She notably contributed to the Australian Indigenous Art Commission at the Musée du quai Branly in Paris by co-translating the catalogue published for the museum's opening in June 2006, and organising the Australia-based festivities, including the major Aboriginal art exhibition "L'Art Aborigène en Fête" at the French Consul-General's Residency in Sydney.
Solenne Ducos-Lamotte is a regular writer, lecturer and curator for cultural and diplomatic institutions and corporations, in Australia and overseas.
She completed her education at the prestigious Parisian art schools Ecole Nationale Supérieure des Beaux-Arts and GRETA des Arts-Appliqués, and also gained a Master of Art Administration from Sydney's College of Fine Arts. Her project management and leadership skills also originate in her initial Business School degree and previous experience in management consulting.
Bénédicte Vachon
IDAIA's Representative and Curator in France
After having gained a Master's degree in Postcolonial Literatures at the Sorbonne University (Paris, France), Bénédicte enrolled on Christie's Education (London, UK) MLitt in Art, Style and Design in 2011-2012, while acquiring curatorial experience in a London museum. She was always passionate about tribal and postcolonial art forms and has been working as an Assistant Curator in Paris, devoting her time, more specifically, to promoting contemporary Aboriginal art in Europe.
As well as being an invaluable intermediary with IDAIA's stakeholders in France and Europe, Bénédicte has notably contributed to curate and present numerous public and educational programs for IDAIA's following exhibitions projects:
2013: Waringarri Artists: Raison d'être – Our country, our culture, our art – in Versailles
2012: Lydia Balbal + Strong Women Country – in Paris
2012: Papunya Tjupi Artists – in Versailles
2012: Beyond the Papunya Dot – in Paris
Curatorial contributors
Project-based, ongoing, regular and one-off curatorial involvement is encouraged, as part of IDAIA's objectives to develop the presence and appreciation of Australian Indigenous art across the world, and to create more opportunities to curate Australian Indigenous art exhibitions, and develop public and educational programs.
Students and professionals are encouraged to submit their views, reviews, essays to publish on this platform, as well as research projects and exhibition proposals.
Thank you to our current curatorial writers Linette Etheredge and Hayley Haynes, and guest-writers Aboriginal art collectors Bertrand Estrangin and Michele McCabe.
Volunteers and Interns
IDAIA's current talented volunteers are from France, New Zealand, China and Australia.
Thank you for sharing your time and expertise: Geraldine Huitric, Phillipa Edgar, Evelyn Yi Huang, Stephanie Knight and Mary Pianka.
And thanks to all the previous team members and helpers.
IDAIA is always looking for new contributors and interns in the fields of art administration, curatorship, communication & marketing, and curator assistant. If you are interested in joining IDAIA's team, please send your CV and cover letter at info@idaia.com.au.