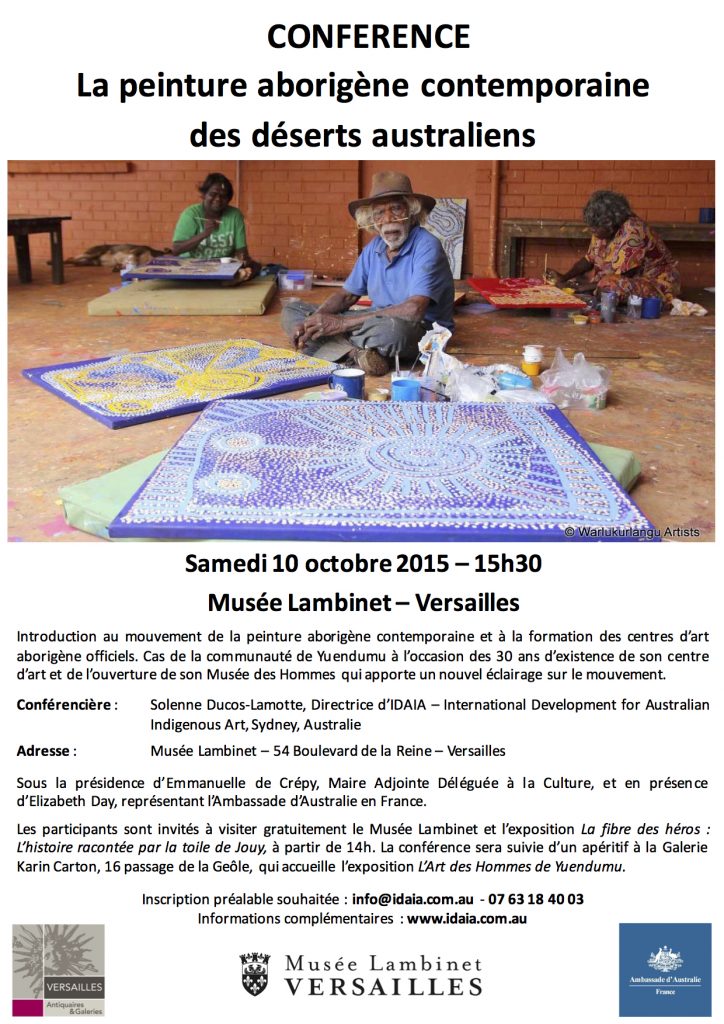 Conférence publique organisée en association avec l'Ambassade d'Australie en France, la Ville de Versailles, le Musée Lambinet, et l'Association des Antiquaires et des Galeries d'Art de Versailles
***ENGLISH VERSION BELOW***
Conférencière : Solenne Ducos-Lamotte, Directrice d'IDAIA – International Development for Australian Indigenous Art, Sydney, Australie
Adresse : Musée Lambinet – 54 Boulevard de la Reine – Versailles
Horaire : 15h15 pour un démarrage à 15h30
Admission : Gratuit – Nombre de places limités – Inscription recommandée : info@idaia.com.au
Sous la présidence d'Emmanuelle de Crépy, Maire Adjointe Déléguée à la Culture, et en présence d'Elizabeth Day, représentant l'Ambassade d'Australie en France.
Les participants sont invités à visiter gratuitement le Musée Lambinet et l'exposition La fibre des héros : L'histoire racontée par la toile de Jouy, à partir de 14h.
La conférence sera suivie d'un apéritif à la Galerie Karin Carton, 16 passage de la Geôle, qui accueille l'exposition L'Art des Hommes de Yuendumu.
Sujet : La peinture aborigène contemporaine des déserts australiens
Introduction au mouvement de la peinture aborigène contemporaine et à la formation des centres d'art aborigène officiels, en s'appuyant sur le cas de la communauté de Yuendumu, qui célèbre les 30 ans de son centre d'art et vient d'ouvrir au public son Musée des Hommes dont les fresques historiques apportent un nouvel éclairage sur le mouvement.
La présentation s'appuie sur un diaporama et la projection d'extraits de films documentant le Musée des Hommes de Yuendumu.
La conférence s'inscrit dans le cadre d'un programme d'évènements à l'initiative d'IDAIA pour célébrer en France l'ouverture au public du Musée des Hommes de Yuendumu et les 30 ans du centre d'art aborigène officiel de la communauté, Warlukurlangu Artists.
Ce programme comprend :
– Une exposition dédiée à l'art des hommes de Yuendumu, organisée par IDAIA en collaboration avec le centre d'art, accueillie par la galerie Karin Carton – Versailles
– Des évènements pédagogiques publics :
2 visites guidées publiques gratuites de l'exposition à la galerie les samedis 3 et 17 octobre,
la conférence au Musée Lambinet le samedi 10 octobre 2015.
*** ENGLISH VERSION ***
Public lecture (in French) organised with the Embassy of Australia, the City of Versailles, the Musée Lambinet, and the Association of the Antique Dealers and Art Galleries of Versailles.
Lecturer: Solenne Ducos-Lamotte, Director of IDAIA – International Development for Australian Indigenous Art, Sydney, Australia
Under the presidency of Emmanuelle de Crépy, City of Versailles Deputy Mayor – in charge of Culture, and in presence of Elizabeth Day, representing the Embassy of Australia to France.
Address: Musée Lambinet – 54 Boulevard de la Reine – Versailles
Time: 3:15pm for a 3:30pm start
Entry: Free – Limited number of seats – Booking recommended at info@idaia.com.au
Participants are invited to visit the Musée Lambinet and exhibition La fibre des héros: L'histoire racontée par la toile de Jouy free of charge from 2pm.
The lecture is followed by drinks at the Gallery Karin Carton, 16 passage de la Geôle, hosting exhibition The Art of Yuendumu Men.
Subject: Australian Deserts Contemporary Aboriginal Painting
Introduction to the contemporary Aboriginal painting movement and the development of the official Aboriginal-owned art centres.
Focus on the Yuendumu community celebrating the 30th anniversary of its art centre and the reopening of its Men's Museum whose murals shed new light on the painting movement.
Header image: Poster of the Conference at Musee Lambinet Versailles © IDAIA – Photo Warlukurlangu Artists with the authorisation of the artist's family
SOURCES: Musée Lambinet, Versailles, & IDAIA