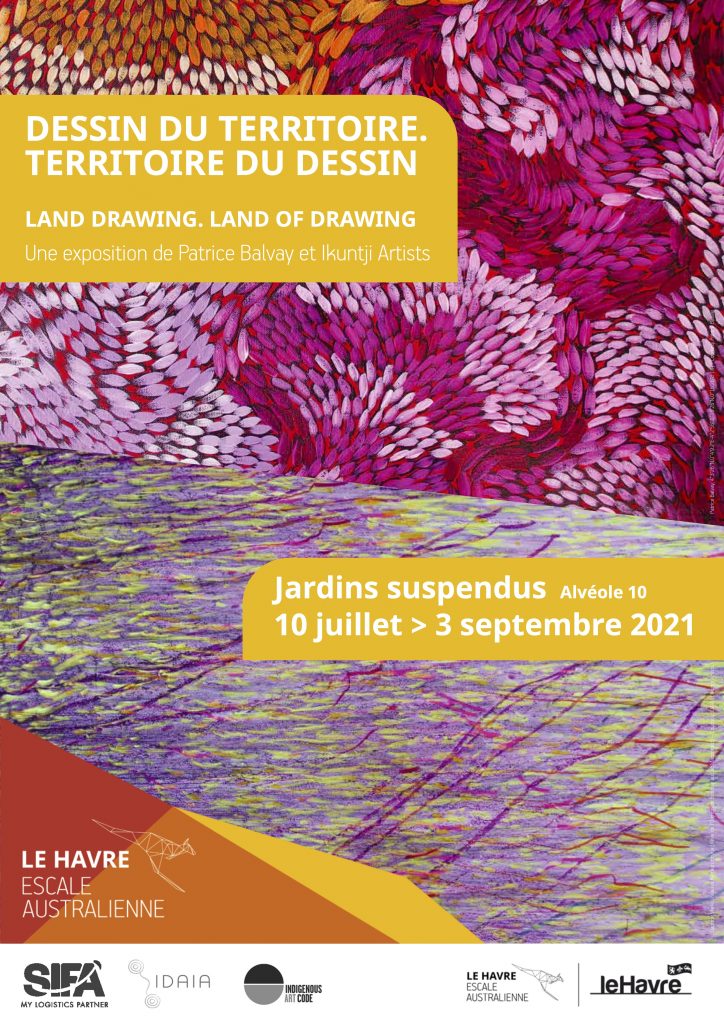 An artist collaboration project with French artist Patrice Balvay based in Le Havre, in the north of France, and a collective of women artists from the community of Haasts Bluff located the central desert of Australia.
As part of the "Le Havre, Australian stopover" event organised by the city of Le Havre, French artist Patrice Balvay and a collective of Aboriginal women artists are creating two series panoramic works in parallel, forming a site-specific installation.
These works are a topographical, symbolic and emotional transcriptions – on the model of the Aboriginal "dream" – of an experience of two territories: the city of Le Havre and the Australian desert.
The two series of works, 7 drawings and 7 paintings, are exhibited face to face in Le Havre's superb Hanging Gardens, in alveole 10.
A project initiated by Patrice Balvay, organised in collaboration with IDAIA and the Ikuntji artist cooperative in Haasts Bluff, in partnership with the City of Le Havre, and with the support of SIFA Logistics.
---
Practical information:
Dates : 10 July – 3 September 2021
Opening: Saturday 10 July – Click here for more info
Exhibition venue:
Les Jardins Suspendus
29 Rue Albert Copieux
Rue Copieux
76600 Le Havre
Free entry
Opening hours : Wednesday to Sunday, 10:30-12:30 and 14:00-19:00
Except on 21, 22 & 23 July: 10:00-14:00
For more information : info@idaia.com.au
Exhibition catalogue and price list available upon request
---
"Le Havre, Australian stopover 2021" is an unprecedented event in the City of Le Havre, which celebrates Australia and its special links with Le Havre. On the program: photographic exhibitions on Australia, artistic installations, discoveries of Australian sports practices, festive meetings around the arts and coffee, shows and concerts, cinema and readings, nature activities, family activities … as well as 4 major exhibitions exceptional heritage around contemporary Australian and Aboriginal art, which make Le Havre a must-see destination from June 5 to November 7, 2021.
"Le Havre, Australian stopover 2021" is part of the highlights of the Australia Now France 2021-2022 program organised by the Australian government: a series of events and initiatives to strengthen and deepen bilateral relations between Australia and France, and to reflect Australia's cultural richness in several French cities.