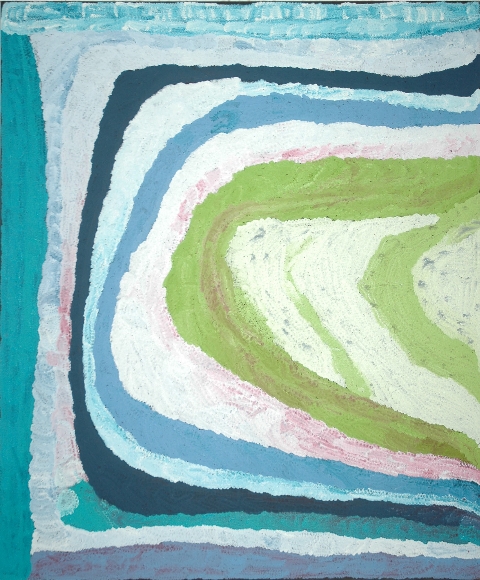 Lydia Balbal – Pikarong, 2011
180 x 150 cm
Acrylic on canvas
Ref. 27825
Available for acquisition at info@idaia.com.au
PROVENANCE:
Short St. Gallery for the Yulparitja Artists of Bidyadanga (official art centre), WA.
Exhibition Remix, Art Gallery of Western Australia, Perth WA (Australia), April 2011 – Aug 2011.
Exhibition Lydia Balbal + Strong Women Country, IDAIA – International Development for Australian Indigenous Art, Passage du Grand Cerf, Paris (France), Oct 2012 – Jan 2013.
Private collection, France.
DESCRIPTION:
Pikarong is a Jila (living water) in Jawiny and Mangala border country. This is both Lydia's parents country. This is the country that Lydia was born in. It is strong woman's country forming part of the woman's law line. There is a lot of campi (bushfood) here especially king brown snake. This country is north of Winpa near well 33 on the Canning Stock Route in the Great Sandy Desert, W.A.
Lydia says "I be born this country. It woman's country this side of Winpa. We go hunting follow king brown tracks. see that baby snake and the egg. that baby snake he go to rockhole he live there." The lines shows the king brown snake tracks.
RELATED CHRONIQUE CURATORIALE –  Read more about the curator's choice