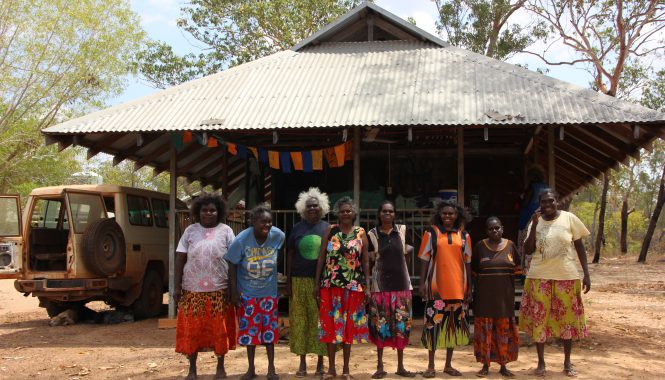 Part of Bawinanga Aboriginal Corporation and based in Maningrida (West Arnhem Land, NT, Australia), Bábbarra Women's Centre enables local women to develop and run women-centred enterprises that support healthy and sustainable livelihoods. From the early days, established by women as a refuge in 1983, Bábbarra has supported the lives of Aboriginal women in the community of Maningrida and on surrounding homelands.
The centre's main enterprise is Bábbarra Designs, which has been in operation since 1989. They have a textile workshop specialising in the production of hand-printed fabric design, as well as a skilled sewing team. Bábbarra is one of only a few Indigenous textile-producing art centres in Australia that design, print and sew products onsite, in community.
Bábbarra artists have trained in a number of textile mediums but most specialise in handcrafted lino-tile designs or screen printing onto fabric. Each piece is unique with varying tile and colour combinations, and reference the life of the land and its foods and plants, bush crafts, as well as ancestral stories, or djang / wangarr.
Governed by women for women, through the Bábbarra Women's Board, the centre is a strong advocate for change – cultural, economic, environmental.
Learn more about the Maningrida region and ancestral stories
SOURCE: Bábbarra Women's Centre.